Facebook Headquarters is something like a grown up Disneyland…a magical social media world w/ free food, coffee and its own enclosed world of everything awesome. I def 'liked' it!
I was invited to give my perspective on the current state of race and violence on March 12, 2015 by "Black@Facebook" – Facebook's Black Employee Resource Group ("ERG") — the panel featured myself, Hillary Crosley (Jezebel writer, friend, and overall bad azz), and Freeway Rick Ross (the REAL Rick Ross, former drug kingpin, now on a crusade make a difference).  The discussion and engagement with the crowd was lively and I walked away with a greater appreciation for how people in corporate/social media america are trying to wrestle with critical political issues.
No doubt, my highlight was this picture with Rick Ross and checking out Instagram headquarters: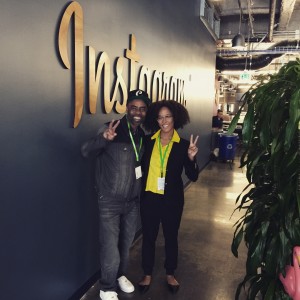 Also, check out the whole team and Bari Williams (FB Legal) at the end who did a massive job coordinating the entire event!