The American Political Science Association (APSA) gives out four book awards each year and this year the Ralph J. Bunche Award for best scholarly work that explores the phenomenon of ethnic or cultural pluralism was given to Civil Rights and the Making of the Modern American State at the annual awards banquet over Labor Day weekend.
Surprised and excited does not even begin to describe how I felt when I found out the good news! I'm feel incredibly honored—especially in a field with so many amazing books published in the last year. My tremendous thanks to the committee for this huge honor.
APSA had this to say about the book: "Megan Ming Francis' Civil Rights and the Making of the Modern American State makes a theoretically and empirically rich contribution to the fields of American political development, interest group politics, and race and ethnic politics.  Francis shifts the field from viewing state development only as a function of the actions of presidents and major events such as the Cold War or social movements.  Instead she finds that the NAACP's anti-lynching campaign in the early 20th century was instrumental in expanding state capacity by substantially increasing the power of the federal courts in criminal proceedings relating to lynchings and mob violence against blacks.  Additionally, her book firmly establishes that the foundation for state involvement in civil rights was developed well before the passage of the 1960s landmark civil rights legislation."
The awards banquet was beautiful and here I am posing with a mentor Alvin Tillery, who has seen this project since the very beginning– back in 2004. Shouts to great mentorship!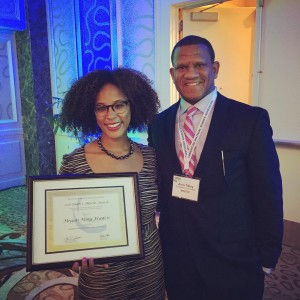 The good folks at University of Washington posted a write-up about the award here.
Most of all: A heartfelt thanks to anyone who has supported my research and this book. It really means the world to me!